Have a technical question for the chapter's seasoned Alfa Romeo owners? Looking to sell your Alfa, car parts, or recommendation? Type your question or information in the "search" bar at the very bottom of this page, and we'll be in touch! Alfa Romeo Manual Listings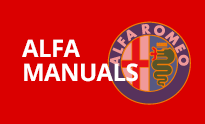 The Alfa Romeo Owners Club-USA maintains an extensive collection of manuals for use by Alfa owners around the world. Alfa Romeo Manual Listings. For the Capital Chapter Library Holdings: Please contact Jack Rugh at wjrugh@gmail.com
May 2021 – Alfa Romeo CEO Keen On Bringing Back GTV And Duetto Sports Cars (motor1.com)
Alfa Romeo Forums and Information:
Are you in the market for a previously owned Alfa Romeo and want to learn more about the vehicle's history before buying? If so, the NMVTIS (National Motor Vehicle Title Information System) offers consumers important vehicle history information. Simply search and select from a list of Approved NMVTIS Data Providers and request a NMVTIS vehicle history report. Information in the report includes:
Current and previous state/jurisdiction of title data
Title issue date
Latest odometer data
Theft history data (if any)
Any brand assigned to a vehicle and date applied
Salvage history, including designations as a "total loss" (if any)
Please note, these vendors are businesses. The longest-established and best-known one is CarFax, (which Bring a Trailer uses). Also, the majority of these service providers are focused on cars made in the past decade; and most do not go back further than 1981, when 17-digit VINs were first mandated. Therefore this is of interest to people with newer cars, but not deep vintage ones.